Oral Surgery
We are Northern Virginia's go-to oral surgery practice.
We specialize in advanced oral surgery methods for the mouth, face, and jaw. We make every attempt to exceed your expectations through exceptional treatment and "from the heart" customer service.
Our team at the Meyer Clinic is made up of well-trained professionals dedicated to serving our patients and providing the finest individual care.
The Clinic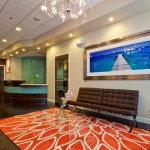 Meyer Clinic is outfitted with state-of-the-art equipment such as 3D cone beam CT Scanners and X-Nav3D Implant Navigation System. The Meyer Clinic offices feature interior design by Laura Gavidia. Your comfort is our top priority. Our goal is to communicate with you every step of the way and provide a relaxing and pleasant environment with a higher standard for patient safety.
Most facial and oral surgery procedures are performed in Meyer Clinic. Our facility is equipped with state-of-the-art surgical suites and recovery areas where patients may rest comfortably until they are released. Whenever surgery requires a hospital setting, Dr. Bukzin is credentialed to perform oral surgery procedures at Fair Oaks Hospital.
Cosmetic Procedures
Aside from oral surgery, the Meyer Clinic also offers high-end cosmetic procedures such as Botox and Restylane. A full list of the cosmetic services we offer:
Rhytidectomy (facelift)
Rhinoplasty (nose reshaping)
Submental liposuction (under the neck)
Fat transfer (increase lip size; fill in facial defects—wrinkles, facial folds, laugh lines; increase cheekbone size and contour)
Brow and forehead lift
Blepharoplasty (cosmetic eyelid surgery)
Ear and earlobe surgery
Cosmetic facial fillers (sculpting of face with injectables)
Botox injections
Facial implants
Two locations to chose from!
Arlington:
1050 North Highland Street – Suite 220, Arlington, VA 22201
(703) 483-9591
Gainesville:
7915 Lake Manassas Drive – Suite 304, Gainesville, VA 20155
(703) 753-7933
We look forward to hearing from you! Please come visit us at either of our locations.
To make an appointment, please call or email.
Arlington: (703) 483-9591 | Gainesville: (703) 753-7933 | info@meyerclinic.com